My beautiful wearing blankets and shawls are personally hand cut, designed, stitched and assembled by me.
NO OUTSOURCING on any of my fine craft pieces.
My textiles are not sewn or assembled in a foreign country or sweat shop.
Blanket & Shawl Designs are Original Designs and Can Be Customized.
Blankets & Shawls are made of 100% fine wool fabrics, silk, satin, and Ultrasuede.
Bone "Elk Teeth", Swarovski Crystals, and Other Ornaments.
Fringes are all hand-cut, knotted and trimmed.
Customer Requests Always Welcome!
This stunning Cree Woman's Hood is constructed of 100% German-made wool, lined with silk from India, loaded with
swarvoski crystals, glass beading, hand and machine sewing and much more. It took six months of care to create this piece.
This art piece is SOLD to a collector from Minnesota, thank you.
| | | |
| --- | --- | --- |
| Cree Hood Center Back | Cree Hood Full Back | Cree Hood Fringing |
| | | |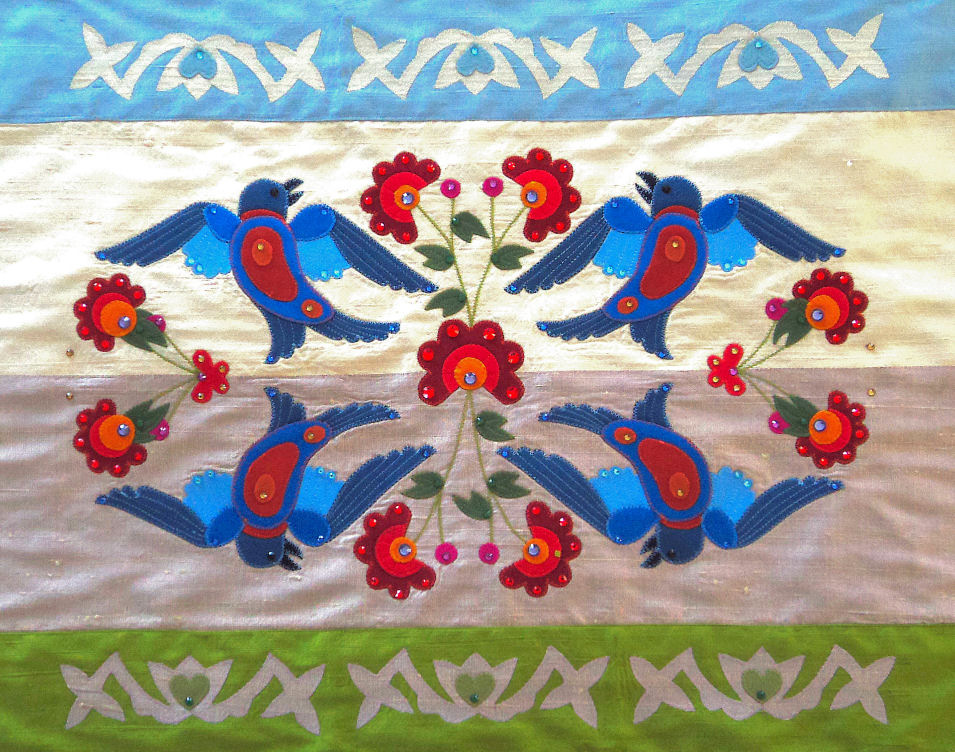 This gorgeous textile is approximately 22" w x 18" h (unframed)

It has a 3" off white mat and a black wood frame using archival materials.Materials: Dupioni Silk, Swarvoski Crystals & UltraSuede (tm).

PRICE: $875 - Include Mat, Frame and Plexiglas

CONTACT US for more information
This gorgeous textile is approximately 22" w x 18" h

It has a 3" off white mat and a black wood frame using archival materials.Materials: Dupioni Silk, Swarvoski Crystals & UltraSuede (tm).

PRICE: $875 - Include Mat, Frame and Plexiglas

CONTACT US for more information

This stunning Cree Woman's Hood is constructed from wool melton, cotton velvet, suede cloth, 100% silk ribbons, hand and machine stitching. It is unlined.

Design is 100% original and copyrighted by Chholing Taha exclusively.

This garment took three months of planning, design work, and painstaking hand and machine sewing. Enjoy!

Size: h: 19 7/8" x w: 12"

Price: SOLD PURCHASE AWARD - Eiteljorg Museum 2019 Market

" Kohkom's Garden (Grandmother's) "

A stunning new shawl made of 100% new wool, silk, Ultrasuede (tm), baby rick rac, Swarovski crystals and had cut fringes.

This beauty will be on display at the Wisconsin Quilt Museum during the Native Fiber Show.

SOLD to a fmaily in Edina MN - thank you!

BEST OF DIVISION (Textiles),+ FIRST PLACE (Textiles) Eiteljorg Museum 2019 Festival

Star Whistling - A New Shawl 2018


A lovely new shawl stitched and fringed with care. The fringing is 18" in length, royal blue and two canary yellows.

The deep navy blue wool is from Italy. Background fabrics are 100% dupioni silk in ice blue, navy, royal, salmon and and deep red.

Enjoy the beauty.

Size: approx: 63" x 28" (folded), 18" fringes.

This work of art will be on display at watermark art center- March-Apr 2018

Price: SOLD

To a collector in WI,
Thanks for looking

Layaway's Welcome

"Lost Birds Returning Shawl "

Lost Birds Returning - A New Shawl 2018


A lovely new shawl stitched and fringed with care. The fringing is 18" in length, navy blue and royal blue in color.

The deep navy blue wool is from Italy. Background fabrics are 100% dupioni silk in ice blue, navy and acid green.

Enjoy the beauty.

Size: approx: 63" x 28" (folded), 18" fringes.

This work of art will be on display at All My Relations Arts, Minneapolis MN 2/2 - 4/20, 2018

Price: $1195 (free shipping).

Layaway's Welcome

Thunder Pony - A New Shawl 2017


A lovely new shawl stitched and fringed with care. The fringing is 18" in length, orchid and sky blue color.

The jet black wool is from Italy. Background fabrics are 100% dupioni silk in sky blue, burgundy, daffodil yellow.

Enjoy the beauty.

Size: approx: 61" x 28" (folded), 18" fringes.

This work of art will be on display at the Phipps Center for the Arts in Hudson WI - Sept-Oct 2017

Price: SOLD to a collector in Phoenix AZ

Spring Rising - A New Shawl 2017


A lovely new shawl stitched and fringed with care. The fringing is 18" in length, orchid and acid green in color.

Hundreds of hand stitched tiny natural shell buttons adorn the floral areas.

The lavender wool is from Italy. Background fabrics are 100% dupioni silk in lavender and acid green.

Enjoy the beauty.

Size: approx: 61" x 28" (folded), 18" fringes.

This work of art will be on display at the Phipps Center for the Arts in Hudson WI - Sept-Oct 2017

Price: SOLD

"Piyesiskitowin Akwanahon " - Bird Song Shawl - (Cree)

This lovely work of art consists of 100% new wool backing, 100% silk appliques, bone carved elk teeth, hand cut and tied fringes in two colors, and glass Swarovski crystals. Size is approx. 64" width, 30" (folded in half).

All ready for the Ceremonial Season!

PRICE: SOLD

"Mistamekwak" - Whales - Northern Cree

Many years ago I studied NW Coastal style art under Marvin Oliver while living in Seattle WA.

This wonderful Killer Whale family is of my own design based on NW Coastal style of art.

This wall medallion (wall hanging) is approx. 42" x 37" and is sewn using heavy 100% wool melton.

The buttons are all 100% natural shell and some are antiques. Shells are 1/8" or 1 1/4" in size. Dark red salmons protecting their eggs migrate along the black borders.

The borders represent the longhouse roof and sides, thus the bottom is left 'open'.

There are approximately 600 natural shell buttons on this piece. Killer whales used with permission.

A sleeve for wall hanging using a rod is on the back. The back is fully lined with 100% cotton fabric for protecting the stitching. Enjoy!

PRICE: SOLD to a collector in Lakeside WA state.

"Chickadee Shawl"

-

Now lives near a lovely lake in Minneapolis MN

Wearing Blanket - We Hold the Future
Permanent Collection Tweed Museum, Duluth MN

This gorgeous blanket is 60" x 60" made of blanket weight wool melton. All decorative items are appliques of various materials.

The hands are outlined in #9 3-cut seed beads in ivory. Hawk bells and copper sequins complete the design.

A Few Wonderful Custom Shawls: (Mouse Over to Zoom In)

A few Other Masterpieces: