Hole In the Sky's Daughter
Art is an amazing journey. You start a work of art, then the art itself begins to lead YOU on a journey of discovery, change and amazement. I am watching this little painting change its name, tell me another story and introduce me to new insights. Even little works can take months to birth- Enjoy

This painting's image is: 10.75" w x 15.75" h. (Framed: 14.75x19.75)
Painted on 300 lb Arches watercolor paper.
Archivally framed and matted.

Price: $1195, includes framing & mat

Contact Us for Price & Purchasing
---
Tehteu - Little Green Frog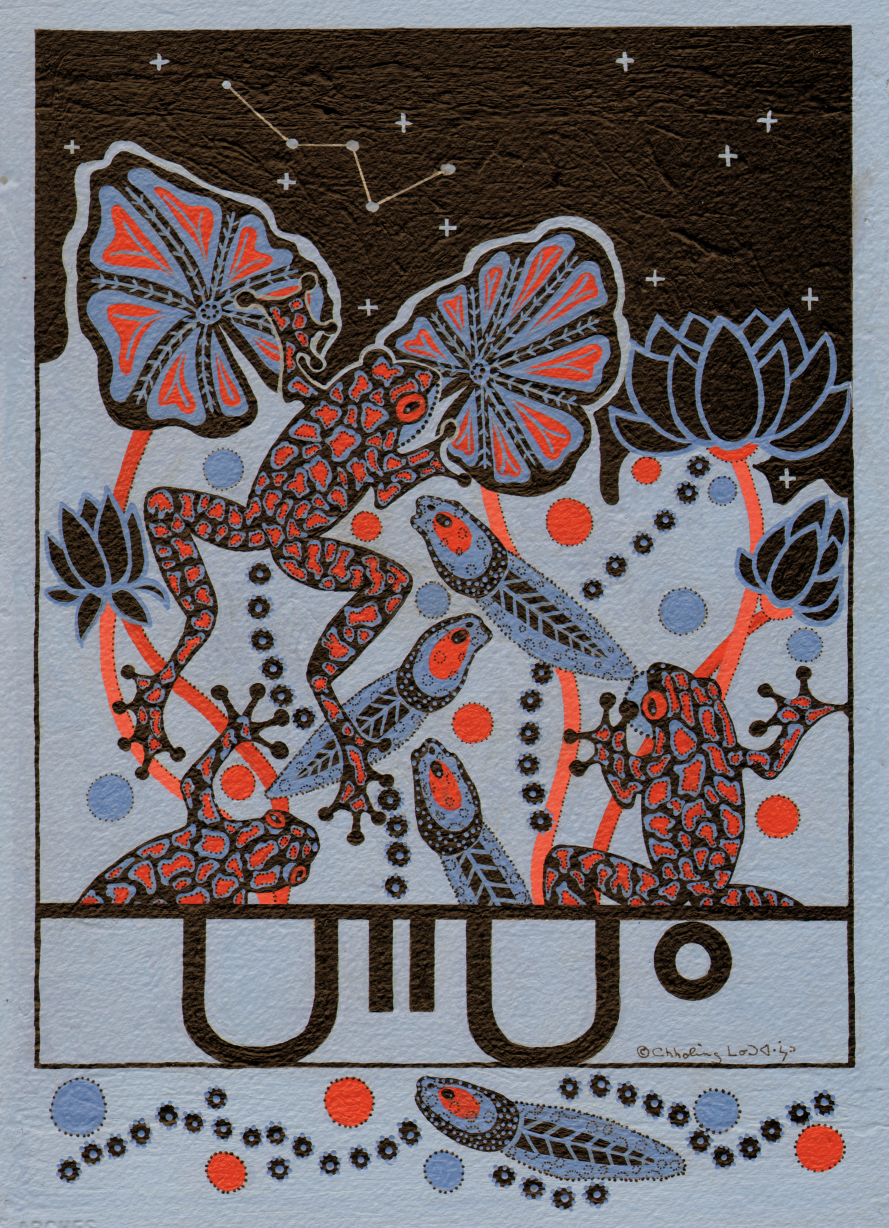 Tehteu - Small Green Frog


Image Dimensions Appox: 13.5" width, 9.5"
Frame and mat is: 18" x 14" approx.

This painting, painted in a wood block print style, illustrates the diversity and beauty of pond life. I remember the leapord frogs as a child, my personal favorite. Pond life is so delicate and robust at the same time.
---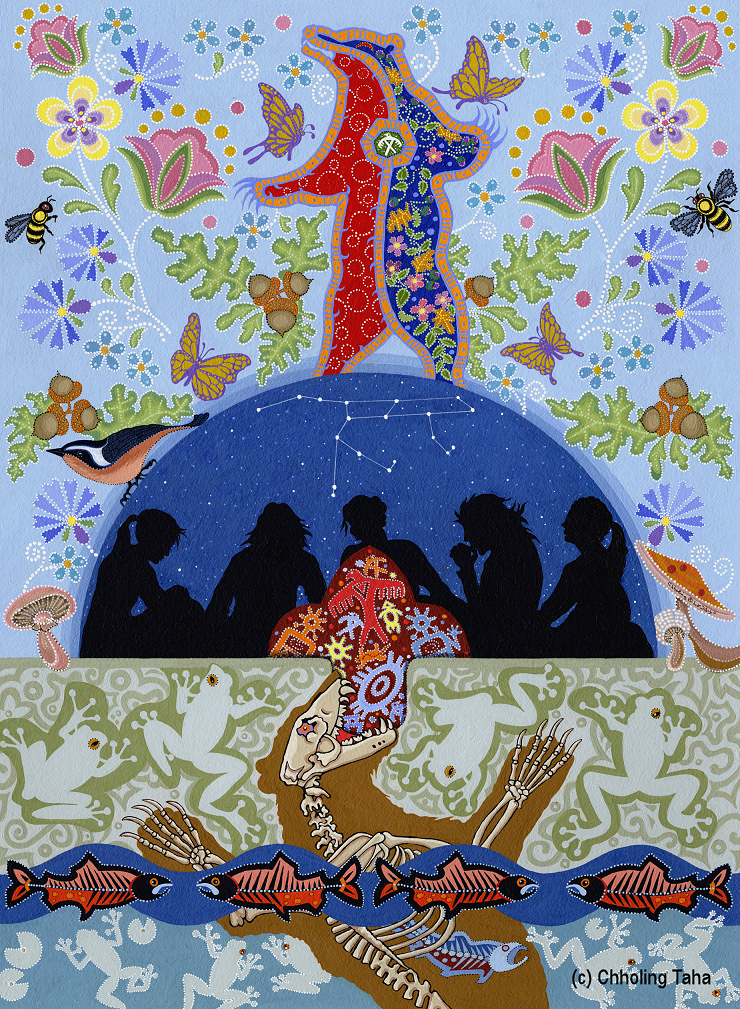 Description:

This painting speaks of our current global balance. We have to be fierce in uncovering the real truth, fierce in our efforts to improve our spiritual path, and fierce in protecting our children from false ideas. The glory of the true nature of .being fierce has nothing to do whatsoever with violence, prejudice, aggression, or hatred.

This painting is approximately Image size: 22 "w x 30 "h approx. plus mat & framing (27" x 35") approx.

Contact Us for Price & Purchasing
---
Gentleness - Kamwatisiwin
One who Posseses the Quality of Quietness
Contact Us for Price & Purchasing

Kamwatisiwin - One who posseses the qualities of quiettude.

An intrepretation of an early painting, Kamwatisiwin was designed to reflect a wood block type print. Here in the starry skies floats a ethereal nocturnal moth. confident rabbit relaxes with his pipe.

Also available as a T-shirt, greeting card and economy print: Buy or Share Here!

Customizable t-shirt in a variety of colors and styles!

---
Nighttime & Daytime
Two New Mini Paintings framed with antique tramp-art frames!
Kisikaw (Cree) for Daytime

This painting celebrates the glory of a new day. How each sunrise presents its own thumb print across the land. Here we enjoy a gorgeous Swallowtail Butterfly making the rounds seeking nectar.

The center area is a scratched birch bark design reflecting the beauty of nature. Along the bottom are delightful blue birds and flowers, a beading design of my own doing.

This painting is 8 1/4" x 6 1/4" painted on Arches 300-lb watercolor paper with acrylic paints.The frame is the second of a matched set circa 1850 from Bavaria Germany. The two frames are a matched pair and I believe they are walnut. I've cleaned and sealed them carefully.

There is no glass or Plexiglas. The painting is then clear coated with a satin UV protective wash. Enjoy!

SOLD - To a collector from Madeline Island WI
---
Arrival of Wintermaker - kiwetin
With Autumn in full swing, I am turing my attention once more to storytelling and new inspirations.
This painting speaks of the arrival of Wintermaker among the night starry skies and
how Wintermaker was bound by his vow to allow the spring to return each year (The flowers at the bottom & baby loons
riding on the parent's back in the center)) The cycle of life with the 4-seasons of the Big Dipper constellation,
plus the birth and death of all living things (Regeneration),
the song of the loon reminding us of the space between the worlds. More to come!
Contact Us for Price & Purchasing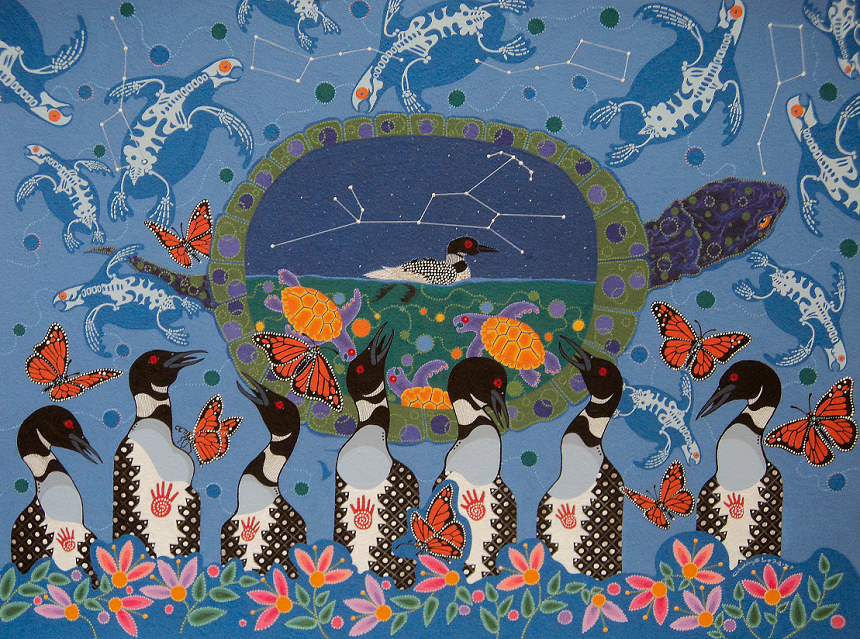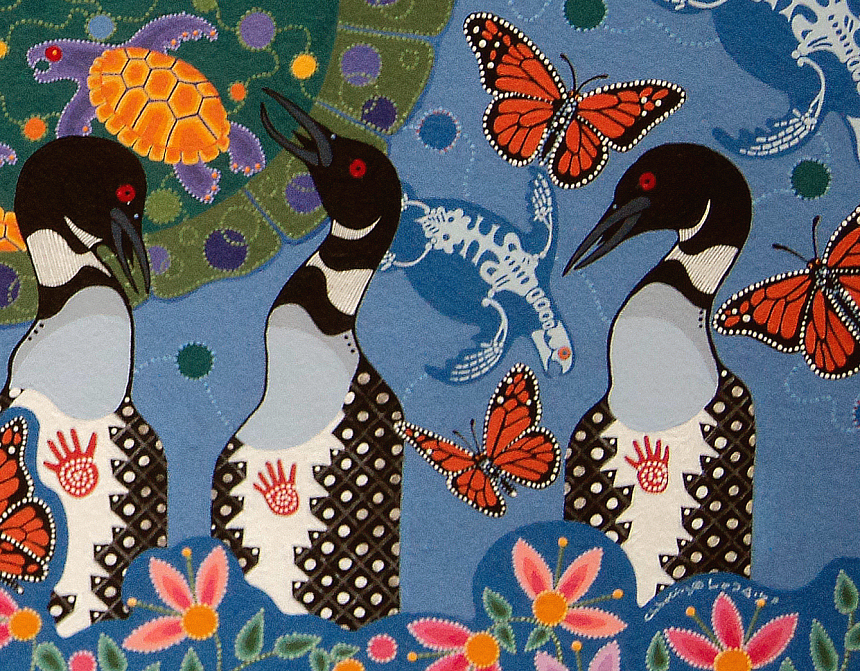 ---
This collaborative piece was designed as one of twelve puzzle pieces adorned with traditional stories by both
North and South American Indigenous artists.

This work discusses many aspects of the interconnectedness of all life. The "Home Fire' (society), The Stars (Sweat Lodge Elements), Tipi Poles (each has teaching on how to behave as a thinking human being), Rocks around the tipi bottom (A woman's skirt, modesty), the rope binding the tipi poles (We Hold Our Life Together) and the Lovely Plants that provide medicine and food for all.
Was included within the Evergreen Longhouse 20th Year Art Exhbit Celebration!

This painting is 24" x 26.5" x 2" painted on plywood board with acrylic paints.




Price: SOLD
Part of the Evergreen Longhouse, Olympia WA, 20th Year Art Exhbit Celebration in 2016!
Detail of "We Are One Bond"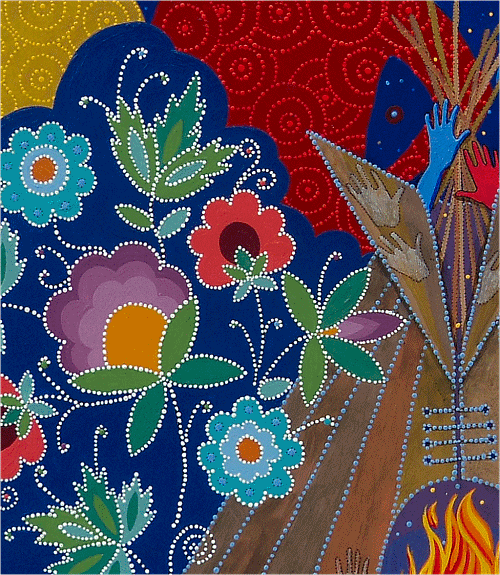 ---
Image Size: 12 5/8" " x 9 7/8" "
Acrylic on French Watercolor Paper
Archivally matted & Framed

PRICE: SOLD
To a collector in Cody WY

PRICE: $75 + $15 Shipping (10" x 8")
(Archival Print, ed: 30)
BUY A PRINT:

**Allow 10 days for processing, these are custom requests :)

Detail image shown to 100% actual size to illustrate fine detail work.

Questions? Contact me with inquiries!
---
Dragonfly - Cohkanapises


Dragonfly - Cohkanapises

Price: SOLD
To a collector in Duluth MN

One in a series of (4) paintings. Beautiful dragonflies are an essential participant in the balance of life in the woodlands. They are messengers, hunters and an expression of Creator's beauty.

This painting is 8.5" x 11" painted on French watercolor paper with acrylic paints.

It is archivally matted and framed with plexiglas.

Enjoy!

Buy a Greeting Card Here: GO

---
Pondering Sacred Things - Manitoweyitamowin








<-- She is standing on
wigwaas (scratched birch bark),
an important material for
both the Tribe and for trade as well.



When we buzz about in our our busy lives, it is so very important to look up and acknowledge the sacred. We will find wisdom in the stars, the flowers, the dance of the ravens and so much more

Here this woman can be found "Pondering Sacred Things" wisdom from the Star People.

Contact Us for Price & Purchasing

Image size: 30" x 21.5" approx. plus matt & framing.

Buy a Greeting Card Here: GO
Order a Signed Archival Print: GO
Purchase an Economy Print: GO


---
Our Great Teacher - Sedwa'gowa'ne